I feel that there are many people out there who want to become somewhat of a "points person", but they don't quite know how to get there. Thinking about how points work and how to properly earn and spend them simply boggles the mind! I thought that a blog post like this might help somebody out there. So, how did I become this type of person?
I Wanted a Honeymoon
I was once a regular guy who used his CapitalOne QuickSilver unlimited cash back card for everything. It was good for building up my credit. It was bad for maximizing my earnings.
After a few months my credit score was excellent. I had just gotten married and was hoping to go on an amazing honeymoon, but how does a newly married couple afford that? Luckily I found myself speaking to some friends, also newly married, who had just booked their honeymoon entirely on points! Yup, two round-trip flights to Hawaii and two 3-night hotel reservations. All on points.
Immediately I was like "OK, I need to do this." Now, this friend happened to have secured a super mega sign-up bonus that was only around for a limited time (100,000 points after spending \$4,000 on the Sapphire Reserve card within three months). For comparison, the sign-up bonus for this card is now only 50,000 points. Be that as it may, I knew I had a lot of learning and planning to do if I wanted to get a free honeymoon in summer 2019. (For more context, the current date was somewhere between December 2017 and February 2018.)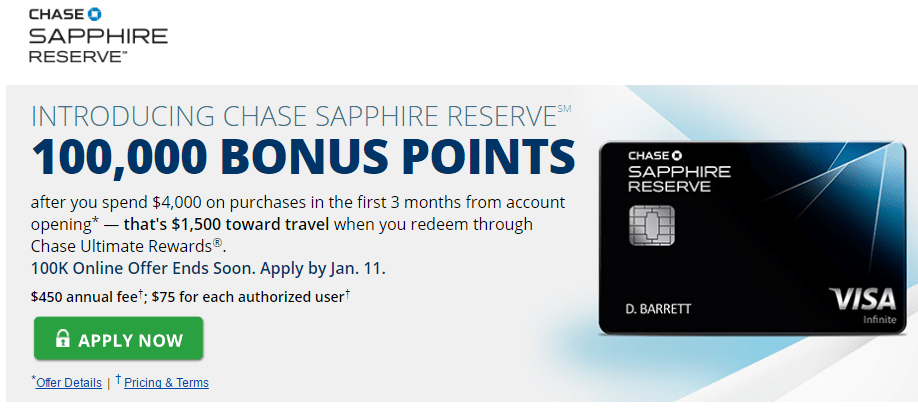 Chase's 100k sign-up bonus promotion for its Sapphire Reserve card
There's a Lot to Learn
Don't let this come as a surprise--banks like Chase will not make it easy for you. This will likely be the longest post on this blog, as there is just so much to understand about how all of this works. Even once you learn everything there is to know about Chase's system, Amex's is plenty different.
To get myself up to speed, I basically just read a ton of blog posts on Dan's Deals and The Points Guy. After a good amount of reading (a few days of it, probably) I decided to apply for my first Chase credit card. The one I went with was the Ink Business Cash card, which (at the time of this writing) has a signup bonus of 50,000 points. I was a newly married guy with expenses, and hitting the \$3,000 spending minimum within three months was no problem. Excellent way to quickly get tons of points. See this article at Dan's Deals for more info.
A Mega-boost from a Mini-moon
My wife and I decided to go on a mini-moon for this summer (2018). We'd continue to collect points over the course of the next year that would eventually buy us our real honeymoon. At this point I had already earned my 50,000 points from the Ink Cash card and was on my next card, the Ink Business Preferred. With this I'd earn a whopping 80,000 points after spending \$5,000 within three months. Normally our normal expenses wouldn't get us there, but luckily we would be spending a bit more on our mini-moon anyways.
A month or two later I had over 130,000 points. Of course I cancelled this card before the end of the year, as there's a \$95 annual fee. Worth it!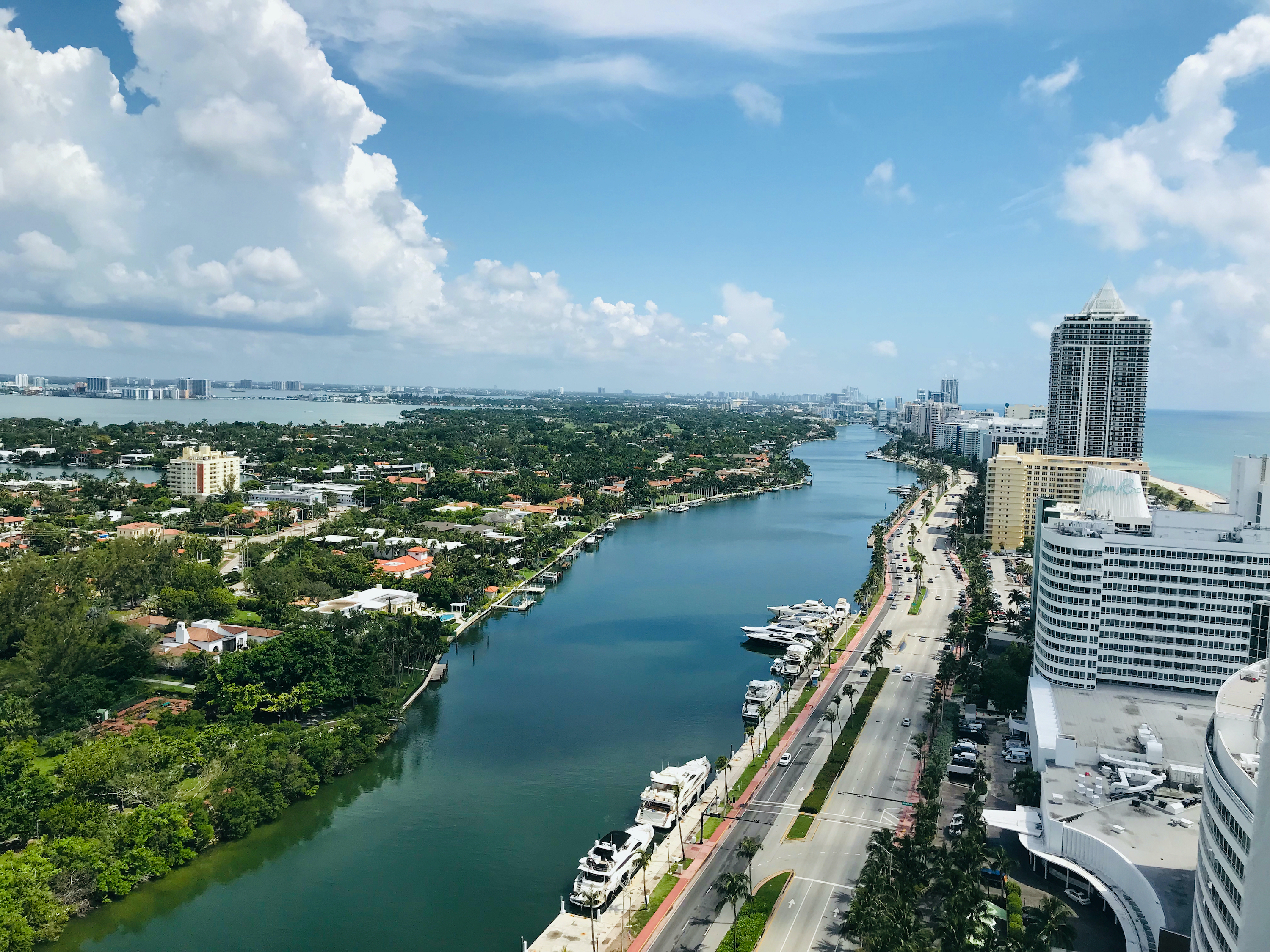 The Mini-moon: Miami Beach (July 2018)
Hooked on Chase Points
So it's been what, like, 5 months at this point since I started doing this points stuff? I couldn't stop there. Maybe 2-3 months later I got the Chase Freedom card so I could begin earning 5x on rotating categories.
Yes, keeping track was getting a tad confusing at this point, so I made this spreadsheet to make it a bit easier. It's what initially inspired me to create Pointway!
United Explorer + Sapphire Reserve
We are now in January 2019. I've got somewhere between 170,000 and 200,000 points (includes all sign-up bonuses and regular purchase earnings). Not enough for an (almost) free Hawaii vacation that needs to be booked by April.
This was the month that the United Explorer card had a promotion where spending just \$2,000 within three months gets you 40,000 miles. I figured I'd just jump on this opportunity and book our flights with United miles.
The Sapphire Reserve offered its standard sign-up bonus of 50,000 points, which isn't bad at all. So I applied for that one too. Luckily the 5/24 rule only applies to personal cards, so even though this one would make card #5 within two years, it's really only #3!
I had to get creative here because there was no way I could easily spent \$6,000 within three months. I decided to basically pay my February rent on one card, and March rent on the other. Those points (and miles) were mine by the end of March.
Free Flights and Hotel Reservation
By the time we had to book our Hawaii vacation there were enough points in my Chase account to book two round-trip flights and an 8-night hotel reservation! Of course the flights had layovers, seats were economy, and we flew on weekdays. There are many ways to go about it. The total amount of points must have been around 250,000 (including those miles).
I booked the hotel via Chase's Ultimate Rewards portal, on my Sapphire Reserve card's account. That way each point can be redeemed for 1.5 cents per point. For the flights I simply transferred enough points to my United account (at a 1:1 ratio), to add on to the existing 40,000 I earned from the United Explorer card's sign-up bonus.
So, all in all, this stuff works!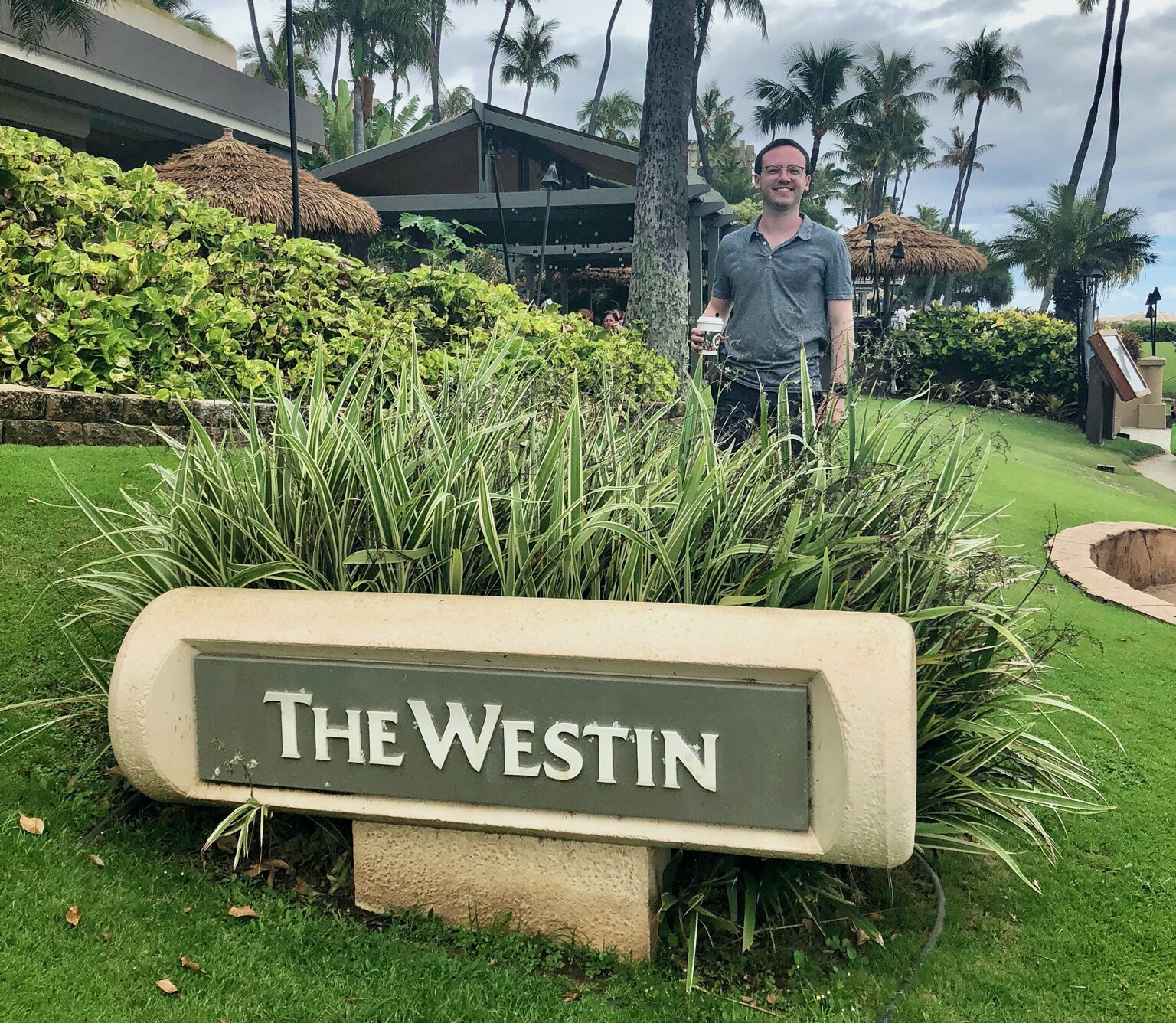 The Honeymoon: me at the Westin Maui Resort in Maui, Hawaii (July 2019)
For some reason this picture was taken in the single hour of our entire trip where the weather was just completely cloudy and rainy. Not common in Maui, but it does happen!
Freedom Unlimited
Even before our trip, Chase announced a new promotion for their Freedom Unlimited card. Normally, like the CapitalOne QuickSilver card, it earns unlimited 1.5 points per dollar spent (which can be redeemed for cash back). New card holders were now able to apply and get unlimited 3 points per dollar for an entire year, after which it would revert back to the standard 1.5 points per dollar.
Luckily I still hadn't applied for this card! I had to, so I did. This promotion just ended for me on 7/1/2020. For a year I've earned a minimum of 3 points per dollar on purchases, and now it'll be just 1.5 instead.
What now?
What's next for me? I've already cashed-out via the Chase game, so maybe I'll soon give Amex a try. Either way, I'll be sure you keep you updated on this blog!
Also, I'm using Pointway to keep track of my earned Chase points. Feel free to give it a try if you haven't yet.
Comments? Leave them below!